DR. DO-DIDDILY AND THE DEE-DOT'S



DIMDIMA

As you all know, Diddilydeedot, Seligor and Dodie
all love to keep our Indian friends happy, whilst
they are living away from their country of

their




ancestors.

Today I visited the Dimdima Magazine on
line by going through my own link to have a look
and make sure the link was still working fine.
Which it is, but whilst there I collected a little of the
children's work and though you might like to see
the wonderful places you can go to through the
DIMDIMA PAGE.
Maybe you could send some of your own stories,
paintings and poems to the editor at DIMDIMA.




First a story from



* * * Summer is Here * * *

by Samruddhi Pathak
Jabalpur
It is summer time in India now. Temperatures are soaring and everybody is

trying different things to save themselves from the scorching heat. Nevertheless,

summers are not that unwelcome as it seems.
Children especially wait for

summers because they have vacations. They can play a lot and eat ice

creams.
Fathers bring big green watermelons and varieties of mangoes while

returning home from their workplaces. Mothers and grandmothers make pickles,

jams, jellies and marmalades. Children enjoy homemade drinks, sherbets,




mom-made Rasna and Milk Shakes. Some even enjoy aerated drinks though

they are aware of their ill effects. Cousins visit each other and (except some

scolding from mothers for playing in the sun and drinking water thereafter) it's

fun time, in general.




However, do not think that only you are enjoying the summer! I mean only we

humans do not enjoy summer . This rosy picture of a typical summer time in

India gets marred when by chance our eyes see a reptile – a chameleon , lizard,

iguana or a mighty snake(who comes out in the evening to have an "evening

walk" ). Instantly we scream, run for life and call others. Depending on the

distance between them and us, we react. The reactions of women especially are worth

noting. They scream loudly. Some go dumb and numb. If the lizard is in the

kitchen, the chances of food being cooked are directly proportional to the

distance between the cooking platform and the lizard. If the lizard is in the




bathroom, the taps enjoy a holiday and if it is in the toilet ! …




The acrobatics of snakes needs a mention too. They occupy vehicles' silencers,

rods of windows, branches of trees and climbers, old pipes and comparatively

cooler surfaces. They generally come out in the evening. Children should avoid

going in thick bushes to pick up a ball.
The iguanas are not as conspicuous as the

snakes or lizards but they are dangerous because they are very powerful. They

have a great grasping ability and a single human cannot deal with them. Killing

them is not easy and not a good step too. Experts from forest departments

should be called immediately and a watch should be kept on them because they

do move very fast and feign inactivity . But they may be fooling us.

Except such interruptions, the summer is for enjoyment. The chilled lassi','malai

kulfi' and sugar cane juice are waiting for you.
Enjoy it fully and make your

summer memorable.



I find your story really nice Samruddhi, I am not sure how old you were when you wrote it. You have brought over with your writing, pictures that the eyes can see, I wonder what you were playing though and what flavour was your ice-cream?
I do realise that the story is only meant to be short, but as someone who has never been too India, I found there was a lot of things I didn't know about.
A beautiful story though, I hope you write many more.



By Sharada Mahalingam
Age : 12
Class: Seventh
School: J.B Vachha High School
City: Mumbai

The Rambo Circus is in town!" I exclaimed, eagerly scanning the day's newspaper. "Let's go today, please, Mummy?"
Mummy looked at Daddy, who smiled. "All right, I suppose we could get tickets for the six 'o' clock show this evening," she said sipping her coffee.
It was a Friday morning and my parents, my twin sister Tina and I were eating breakfast.
"Now eat quickly, or you'll be late for school," said Daddy.
At school we could think about nothing but the circus, and as soon as we got home, we changed, had our snacks and waited impatiently for Daddy to get home from his office.
"He'd said he'd come early today," complained Tina to Mummy. Just then, we heard a squeal of tires and our blue family van appeared on the driveway, driven by Daddy.
We filed inside the van and where off to the circus. We were fortunate to get four seats in the front row - then the show began.
The first to take the stage was a

famous Russian acrobats team, they

performed on the high-wire. They were amazing.
Next a dwarf rode on a tri-cycle, he was marvellous. We clapped loudly as he rode his tri-cycle over the tall grey elephants.
Suddenly the circus ring was filled with the sound of two motor cyclists who drove their motor bikes inside a huge transparent globe. The noise they made was deafening!
After that, a pretty lady came onto the stage, followed by a lion. She fearlessly put her whole head into the lion's open mouth! We were terrified, but how the audience applauded! We had just settled down again, when a magnificent, black horse, with a young gymnast sitting on its back came onto the stage. Slowly he stood up on the horse's back, first he cantered about on the stage, then he did push-ups and even a few flip-flops!
Then the lights came on, it was the interval.
Daddy let us buy popcorn and ice cream, and we talked about the various items that were performed.
Then it was time for the second half . The scenery had changed and there were rope ladders hanging everywhere and across the very top was a huge net. Then the clowns came in , a short clown with a big red nose and curly hair, whilst the taller one had a hat and long, toed, shoes. They made their way to the ladders and the little one started climbing, followed closely by the tall one on the same ladder just a few steps behind!
Just then, the little clowns shorts slipped off his legs and fell onto the stage. But that wasn't enough, moments later his underwear fell after his shorts, but this time they landed over the head of the tall clown! It was really very funny, watching him wobbling about on the rope ladder, Tina was crying with laughter!
Then the lights dimmed and in came a juggler, he was carrying burning torches. He began to juggle them, first one, then two, then three.
I felt scared, I mean, "what if he drops one of those torches of fire?" I jumped as Tina got up from her seat to go to the toilet
Then suddenly - before I knew what was happening - I saw that the stage was on fire!
Everyone was screaming, everywhere rushing to the fire exit .
"Hold on tight to my hand!" screamed Mummy, clutching Daddy's arm, we were practically carried by the crowd to the exit.
Suddenly Daddy shouted, "Where is Tina?" Just then, we saw my sister come out of the rest room, a look of surprise on her face. "Tina, Tina," I shouted waving at her frantically and at last she spotted us and came running over!
There was no time to explain we just kept hold of Mummy as Daddy led us to safety.
At last, we reached home safe and sound.
The following day we read all about it in the news-paper, Luckily the juggler had escaped with minor injuries and no one else seemed to have been hurt or killed, thank goodness.
My only regret was we never saw the end of the show. But Tina didn't mind that, "she was more angry that she was out of the room and missed all the excitement!" she grumbled.
Such an adventure, who could have known that a simple visit to the circus , would have such an extraordinary ending?!



Dear Sharada


What a wonderful story, was it a true adventure or did you make it up. I hope you wont be upset but as you are/were only 12 when you wrote it, I have took the liberty of altering it a little bit. This doesn't mean I didn't think your story was good, not at all, the ideas are fantastic and with a little tweak here, and a little tweak there, adding a few more words that created the scene on the stage into your mind, is something you learn with time.
I am 65, and even now when writing my big books, I still have to get someone to see if they can be made better.
Never be afraid to ask your teacher for help when you are writing and always read back over what you have written, mainly, to make sure you don't repeat the same words over and over again.
I hope you will not mind my help and I hope to see some more of your work.. I receive the Dimdima every month and do enjoy reading the children's pages.



Bye, bye Seligor




I couldn't go without putting this one poem on by Grace.
And with Halloween soon coming up
I thought it was very, very good, and I will enclose it in
my special Halloween night page both on
Diddilydeedot's Dreamland and Seligor's Castle.


Midnight Horror

A strange cold shiver
Down my spine
The long white thing
Supposing a ghost
Lurking in the shadows
Waiting to pounce
On a girl like me!

It's Friday
Midnight on Friday the 13th
The day of ghosts,
Of ghouls and owls
Cackling witches on their broom
Laughing, screaming
Fills the air
Giving it a spooky stage.

Robbers and thieves on the prowl
Making plans to hurt people
Dacoits too join their gang
Poachers too included there
Trouble's brewing all around
In houses, yours or mine.

Suddenly! POOF! The shivers gone
A clock goes off and I wake up.
This was one of weirdest dreams
One I'm sure I'll never forget!

Grace Verghese
VIII C
Bhavans, Chevayur , Calicut


*HUGS* TOTAL! give Seligor more *HUGS*
Get hugs of your own



DISCLAIMER Disclaimer: This website contains materials authored by me and also
partly a collection of items from the internet.
The collections are, I believe,
in the Public Domain. In case any material, inadvertently put up, which has a
copyright
please do write to me and it will be removed.
The compilations are for entertainment
purposes only and have not been compiled for educational or historical purposes.
dottido@hotmail.co.uk
DR. DO-DIDDILY AND THE DEE-DOT'S
Holi with Bloodshed


The invitation said, 'Hope your thirst for battle has been quenched. Springtime has come.
Come with your courtiers to play Holi with the Rajputani'...
Perched on the bank of the river Chambal, Kota was once ruled by the rulers of Malwa, Kesar Khan and Dokar Khan. But it was rather their misfortune, which drew them to Kota, where they were buried near the big tank, with the beautiful Jag Mandir at its bank. The end of these rulers came in a sensational way on the occasion of Holi, when people play with colours. But it was not colour, in their case, it was blood.

As per tale about seven hundred years ago, Kota was seized by the two pathans Dokar Khan and Kesar Khan. Bhongasi, its ruler was incapacitated with the excessive use of wine and opium and was banished to Bundi. His wife, with his household vassals and sixty villagers retired to Kaithun. Bhongasi, while in exile, repented his excesses and returned to his wife and kins. The intrepid Rajputani, rejoiced at his return and laid a plan for the recovery of Kota.
To attempt it, by force, would have been an open invitation to destruction.


When spring came the queen planned to organize Holi and invited the Pathans who jumped at the invitation and eagerly awaited the moment when they would be with the queen.
One fine evening, Kesar Khan and Dokar Khan found themselves in a romantic mood. They were in their Palace of Kota, which is known asGarh. In this sylvian setting with Chambal streaming nearby, their courtiers and attendants sat by their sides silently.

All of a sudden, Ibrahim, one of the commander broke the silence and said that the queen of Kaithun was preparing some plants to dethrone them. Kesar Khan guffawed and mocked the commander, "What can the queen do, with her husband an opium addict? They will never dare to challenge us".

Dokar Khan, his brother, was in a light mood. He changed the power of beauty. In fact, she is the loveliest among the lovely, a charming queen..."


Kesar Khan smiled and expressed his desire to have the queen in his palace. He wanted his soldiers to attack Kaithun then and there, because king Bhongasi and his queen lived there. But it was the days of Holi festival. Hence, Ibrahim said that the plan to capture the queen can materialise only after the Holi. Kesar Khan accepted the advice and waited.

The dethroned king Bhongasi and his queen, Rani Roopmati was living at Kaithun, nine kilometer from Kota, in seclusion and in sadness. The queen was not so much unhappy over the defeat suffered at the hands of the Pathans; as she was because of her husband's addiction to opium. Holi was drawing near, and she was reminded of the great event of history when queen Padmini got her husband freed from the clutches of Allaudin Khilaji. A plan takes root in her mind. She gave a broad smile and ordered her maidservant to call Ratan Singh. Ratan Singh was the Commander-in-Chief. The queen discussed the plan with Ratan Singh, he nodded and went to put into action the queen's plan.

Ratan Singh sent an invitation to Kesar Khan and Dokar Khan to come to Kaithun to play Holi with the queen and her maidservants.
The invitation said, "Hope your thirst for battle has been quenched. Springtime has come. Come with your courtiers to play Holi with the Rajputani".

The invitation from the queen put Kesar Khan in a state of joy. The message was delivered to Dokar Khan as well. Kesar Khan was lost in dreams about the queen. He gave up the idea of waging another battle with the defeated king and accepted the invitation, nourishing the hope that he would have the occasion to oblige the queen.

Ibrahim, however, warmed him that there could be a trap behind the invitation. But Kesar Khan ignored the advice of his trusted commander.
The messenger was sent back with the acceptance of the invitation.
Kesar Khan ordered the best of clothes for himself and his courtiers. He was impatient for the moment when he would be playing the colourful Holi with the queen Roopmati and her beautiful maids.


In Kaithun the garden was decorated in style. Three hundred young and pretty maids clad incolourful garments awaited to give a befitting welcome. They did not have to wait for long. Kesar Khan, turbans on their heads. The atmosphere was surcharged with romance. It put Kesar Khan and his comrades into a state of joy. Kesar Khan had waged many battles. He was now tired. It was a rare occasion offered to him for romance and revelry. He entered the palace garden and greeted the queen. The queen was waiting along with her maids with plates full of colour powders in their hands.

The fountains sprang to their full height. The flowers were blooming, the air was scented with music all over. Kesar Khan approached the queen. In his impatience he expressed his feeling towards her and the queen responded in the same way and she threw colour powder (Abir) on Kesar Khan. This was a signal, for her companions who were disguised young men as ladies.

They were a band of 300 selected Rajputs belonging to the Hada Dynasty. They threw away their disguises and drew out the swords hidden under their petticoats and losing no time attacked the pathans. Kesar Khan was taken by surprise. Not only was he killed on the spot, his warriors too met the same fate.


Holi was now converted into a blood bath. Kesar Khan and Dokar Khan along with their courtiers all lost their lives. Kota was now restored to the king and the queen.

Back in Kota, the people gave a colourful welcome o their king and queen, for freeing them from the tyranny of the pathans. Queen Roopmati thus set another example like queen Padmini and regains her lost kingdom. This story of Rani Roopmati of Kaithun will always be remembered for the valiant effort she made for the cause of freedom.
Dharma and Adharma were two friends. They had qualities befitting their names. Dharma was a pious and virtuous man. Adharma was a corrupt and dishonest person. As people judge others by themselves Dharma was under the impression that Adharma was an honest gentleman.
Adharma thinking about his future realized that he was a poor, uneducated and dull witted person and so did not have much scope of earning a decent livelihood at the place where he lived. He thought that if he could make enough money he will not have to bother about his future. For this he needed to go to a town closely, as opportunities were more there. He however did not have confidence of his own to do it alone and so told his friend Dharma about his idea. Dharma as usual, ready to help his friend, agreed.



The tw
o friends went to a
nei
ghbouring town.
They lived there for a few years and made fortune.
When they thought that they had enough wealth they decided to return home.
On their way they passed through a forest. Adharma said, "Dharma, let us bury half our wealth in this forest. Whenever we need it we will come here and take it."

Dharma agreed and both friends buried half of their wealth under a baniyan tree in that forest.
They put a cross sign on the tree and proceeded on their homeward journey.
After a few weeks, Adharma came to Dharma's house and said, "Friend, I have a big family to support.
All my money is finished. Let us go to the forest and bring the money buried there."
So Dharma and Adharma went to the forest.
They dug deep at the earmarked spot but did not find their money.

Adharma annoyed and angry accused Dharma of stealing the money. Dharma tried to convince his friend of his innocence but Adharma refused to believe him.

He dragged Dha
rma to court to get justice. He narrated his story to the Kazi. Adharma said, "Your Honor, the Goddess
of the baniyan tree is my witness."
The Kazi, a wise man, said all right let us all go to the baniyan tree under which you had buried you money.
I want to hear the Goddess of the tree testify for Adharma."
Adharma had a trick up his sleeve as he had earlier told his father to hide himself in the big hollow of the baniyan tree and testify that Dharma had stolen all the money buried there.
Like like son like father, he liked the idea of his son and agreed to do, as his son wanted him to do. He had gone there early and hidden himself in his designated place.
After some time Dharma, Adharma, the Kazi and his guards entered the forested and came near the tree.
The Kazi addressing the tree said,
"O goddess of the tree, please help us find out the culprit."
Adharma's father spoke up from the hollow of the tree,
" O Kazi! Dharma has stolen all the money. He is the thief."
The Kazi surprised at the talking of the tree, called his guards and asked them to collect some firewood and light a small fire near the trunk of the tree.



When the fire was lit the smoke entered the hollow where Adharma's father was hiding, forcing him to come out with red eyes coughing and sneezing.

He fell at the feet of the Kazi and started apologizing for trying to cheat the court.

He then narrated the truth to the Kazi.
Adharma and his accomplice father were arrested on the orders of the Kazi and led away to prison

Dr. DooDiddily and her Dee Dot's
The History Of The Taj Mahal
In the 17th century, most of the country we now know as India was ruled by the Mughals, an Islamic people who were extremely powerful in the area for over 300 years.
The Taj Mahal was built because of a love story! In 1607, Prince Khurrum of the Mughals, at the age of 14, fell in love with a 15 year girl and became engaged. The couple had to wait 5 years for their wedding day, but then had a long and very happy marriage. Prince Khurrum became Emperor in 1628 and was then known as Shah Jahan ("King of the World"), and his wife was known as Mumtaz Mahal ("Beloved Ornament of the Palace").
In 1631, Mumtaz Mahal died while giving birth to their 14th child. The grief-stricken Emperor ordered that a beautiful memorial to his wife should be built.
The Emperor Shah Jahan
and his beloved wife,
Mumtaz Mahal
Shah Jahan, although devoted to his wife, is known as a cruel leader, who killed his brothers to make sure that he became Emperor! Eventually, in 1657, he was overthrown by one of his sons, and he spent the last 9 years of life locked up in a tower overlooking the Taj Mahal.
Two ideas for Bengal Chutney
this one from Sharwood

Pan Fried Cod withBengal Spice Mango Chutney
Succulent pieces of cod served on a bed of baby spinach leaves,

drizzled with warmed
Bengal Spice Mango Chutney
Preparation Time: 5 minutes

Cooking Time: 7 minutes

Serves: 2
Shopping list
1 Tbsp vegetable oil
2 portions thick cod loin
100g baby spinach leaves
3 Tbsp Sharwood's Bengal Spice Mango Chutney
1 Tbsp lemon juice
Cooking Method
Pan fry the fish in the oil for 2-3 minutes each side

or until the fish is just cooked.
Meanwhile cook the spinach leaves until just softened,
the microwave gives perfect results, arrange on a warmed serving dish.
Arrange the cooked fish on the spinach leaves.
Add the chutney and lemon juice to the pan,
heat through and drizzle over the fish, serve immediately.
Chutney is a term for a variety of sweet and spicy condiments,
usually involving a fresh, chopped primary vegetable or fruit with added seasonings.

Second Recipe


Ingredients



1lb Demerara sugar. ½lb stoned raisins.




½ teasp. salt. 3 pints vinegar.




2 zs mustard seed ¼ lb garlic. (decloved and skinned)




2 ozs ground ginger ¼ lb onions (skinned)


½ oz cayenne pepper. 15 large sour apples (cookers)
¼ oz of hot chilli powder, depending on how hot you want it.

Bake the apples down to a pulp, (finely peeled and cored first)
Boil the onions until tender in a little water.
Cover garlic with water and bring to the boil in a small pan, remove from heat and skim;
then, along with the raisins, sugar, vinegar, spices, salt and cayenne pepper, place into a preserving-pan, with the apples, garlic and onions and boil for ¼ hour.
Put into warm, bone-dry jars and seal with jam pot covers.
This chutney if kept in a cool, dry place will keep for 2 or even 3 ye

ars. The longer it's kept the more delicious it becomes, but if you want to

eat it today, well thats okay as well.



Mother Teresa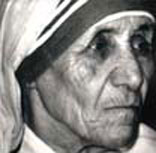 About 20 years before India gained its freedom, Christian missionaries from Yugoslavia came to India to render humanitarian services. They were extremely affected by the conditions of poverty rampant in India and so invited people from their country to serve here. Amongst these was a special girl called Agnes Goxa Bojaxiu, who is today known as Mother Teresa.
Agnes was born on August 27, 1910 and was just 19 years when she came to Calcutta on January 6, 1929. And she never left this country. Her aim in life was to serve the sick and the poor and she dedicated her full life towards this purpose. She would roam the dangerous dark and dirty streets of Calcutta at night, covering the cold and offering food and shelter to the poor. When she first arrived in Calcutta, she had just Rs. 5.00, and was helped by a priest. She lived in a small room for 9 years, where she nursed the ill back to health. Compassion, dignity and sympathy marked her every action.

Through her efforts she managed to open several institutions to help the downtrodden e.g. 'Missionaries of Charity', ' Nirmal Hriday', and 'Shishu Bhavan' whish houses the mentally and physically challenged children. Mother Teresa was awarded the Nobel Peace Prize in 1979 and the Bharat Ratna in 1980. Besides these she also received the Jawaharlal Nehru Award for International Peace (1972), Ramon Magsaysay Award (1962) and the Templeton Foundation Award (1973). As the Mother- General of the Missionaries of Charity, Mother Teresa has a thousand Missionary institutions working under her.
Despite all the public acclaim, national and international honours, mother Teresa remained humble, kind and generous till the end. The Florence Nightingale of India passed away in September 1997.
I am sure there could be nobody in the world who has been admired as much as the Angel of India, she gave so much of herself in helping the people who had so very little. But I have put a few pictures below with words that were spoken by another great man of India. Though sad I am sure they must both be, as they gaze down from the heavens and see the beauty that could have been, is still not within the boundaries of this beautiful country.


* * * * * * * * * * * * *


Reeshav Chatterjee
12 years old - India
"Mother is ready to do anything for the happiness of mankind"

"Mother Teresa was the true Mother of the world. She was an angel sent by God to serve the poor, who believed in the policy of love and care. I feel that nobody can exceed her qualities. For that I admire her more than anyone else. If she can care for the poor she can even skate for happiness of mankind!"